Stop phishing-aanvallen met behulp van AI in Barracuda Sentinel, dat zich de afgelopen maanden zeer snel heeft ontwikkeld. In december hebben we ondersteuning toegevoegd voor het detecteren van imitaties van webservices en gerichte phishing-aanvallen. Bij deze aanvallen imiteren de aanvallers populaire webservices (Outlook, Docusign, Dropbox, Apple, UPS, enz.) En vragen ze de ontvanger op een koppeling te klikken. De koppeling brengt de ontvanger meestal naar een inlogpagina die er precies uitziet als een aanmeldingspagina van de geïmiteerde webservice. Het doel van de aanvallers is om de inloggegevens van de ontvanger te stelen en deze te gebruiken voor het infiltreren van interne IT-systemen en het lanceren van daaropvolgende aanvallen.
Stop phishing-aanvallen via Barracuda Sentinel AI-bescherming
Sentinel kan deze aanvallen stoppen door te begrijpen dat de e-mail zich voordoet als een veelgebruikte webservice (bijv. Dropbox), maar stuurt de e-mail niet vanaf een adres dat is gekoppeld aan de webservice (bijvoorbeeld dropbox.com) en de links binnen de e-mail heeft niets te maken met het domein van de webservice.
Voorkom dat uw collega's slachtoffer worden van phishing
Tegenwoordig zijn de phishing attacks niet alleen doelgerichter, maar ook geavanceerder. Dagelijks ervaren organisaties (van klein tot groot) actuele bedreigingen via phishing technieken. Deze kunnen leiden tot e-mailfraude, gegevensverlies, datacorruptie en/of merkschade. Hoe u het beste kunt omgaan met deze phishing aanvallen leest nu in onze whitepaper.
AI betrapt phishing-attacks
Deze mogelijkheid heeft ook het aantal aanvallen dat Barracuda Sentinel detecteert in verschillende talen enorm uitgebreid. We zien dat aanvallers de taal van de ontvanger gebruiken om hen te misleiden om op een link te klikken, of het nu Duits, Spaans, Nederlands of Mandarijn is. We zijn blij om aan te kondigen dat Sentinel aanvallen in alle talen stopt, en onze AI kan klanten in alle delen van de wereld effectief ondersteunen. Om dit soort imitatie-aanvallen te stoppen, vertrouwt de AI niet op tekstspecifieke kenmerken van de e-mail, waardoor deze met elke taal kan werken.
Voorbeelden van Barracuda Sentinel
Om u een idee te geven van de soorten aanvallen die Sentinel in verschillende talen kan opvangen, voegen wij hieronder een aantal voorbeelden toe die de AI van Sentinel heeft betrapt.
Spear Phishing voorbeeld met Apple mail imitatie

Apple-imitatie (in het Italiaans): in deze e-mail bootst de aanvaller zich voor Apple na en vertelt hij de ontvanger dat zijn Apple-ID vermoedelijk werd gebruikt om zijn iCloud-account te openen vanuit een nieuwe browser in China. De aanvaller vraagt ​​de gebruiker vervolgens op een koppeling te klikken om deze veronderstelde verdachte activiteit te verifiëren.
Spear Phishing voorbeeld met Netflix mail imitatie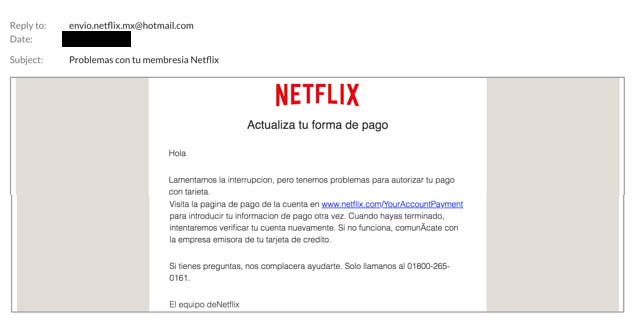 Netflix-nabootsing (in het Spaans): in deze e-mail bootst de aanvaller Netflix na en deelt de ontvanger mee dat zijn account problemen heeft en wordt opgeschort, tenzij hij op de link klikt. De koppeling zelf neemt de ontvanger niet naar netflix.com, maar naar een webpagina die eigendom is van de aanvaller.
Spear Phishing voorbeeld met PayPal mail imitatie

Imitatie van de Nederlandse Paypal: de aanvallers treden op als Paypal en vertellen de gebruiker dat hun account gedurende drie dagen is "opgeschort" en vraagt hen om op een link te klikken om het te herstellen.
Malware werknemers mail voorbeeld

Impersonation van werknemers (in het Duits): de aanvaller bootst zich voor een andere werknemer na en vertelt de ontvanger dat ze een document hebben dat op hen wacht. De koppeling brengt de ontvanger naar een pagina waar ze zich moeten aanmelden of naar een pagina die malware naar hun apparaat downloadt.
Geavanceerde bescherming bij realtime spear phising en cyberfraude
U kunt uzelf beschermen tegen deze aanvallen en anderen zoals hen met Barracuda Sentinel, de toonaangevende, uitgebreide AI-oplossing voor real-time spear phishing en cyberfraudebescherming. Voor meer informatie kunt u direct contact opnemen met BlackIP.