Barracuda Security Insight Platform toont in real-time wat de gevaarlijkste bestanden zijn
Barracuda Networks lanceert het Barracuda Security Insight Platform. Dit dashboard geeft real-time informatie over actuele cyberdreigingen. Barracuda Security Insight Platform brengt het actuele cybersecuritydreigingsniveau in kaart, door data te analyseren die worden verzameld door Barracuda-beveiligingssystemen over de hele wereld. De analyse is gebaseerd op e-mail-, netwerk- en webverkeer. Het biedt zowel samenvattingen als gedetailleerde informatie over de gedetecteerde dreigingen. Het doel van het dashboard is om zowel IT-professionals als consumenten op de hoogte te houden van de wereldwijde cyberdreigingen.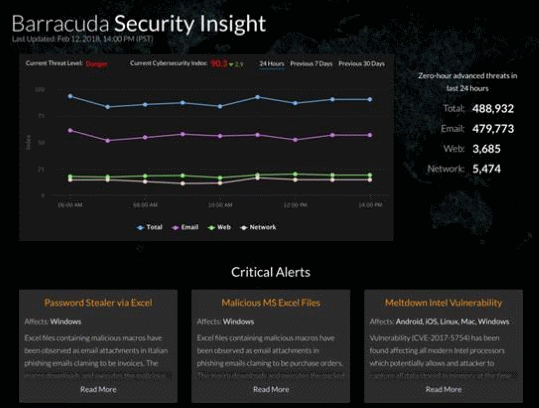 Enkele recente bedreigingstrends die zijn waargenomen door Barracuda Insight:
PDF-bestanden worden het meest misbruikt door cybercriminelen. Vooral omdat ze makkelijk te maken en te versturen zijn. PDF-bestanden bevatten vaak links naar malafide sites of actieve scripts. Van de PDF-bestanden die de afgelopen drie maanden door Barracuda-systemen zijn gescand, bleek dat bijna 41 miljoen deel uitmaakten van een aanval.
De meest geavanceerde en effectieve aanvallen maken gebruik van ingebedde scripts, zoals JavaScript (JS) of VisualBasic (VB). Uit recente analyses blijkt dat meer dan driekwart van deze scripts kwaadaardig is. Scripts kunnen worden ingebed in HTML-code, of in andere bestanden, zoals RTF of Microsoft Office-documenten. In een steekproef van 70 miljoen Office-documenten die de afgelopen drie maanden zijn gescand, werden meer dan 4,7 miljoen kwaadaardige of verdachte documenten gevonden.
Gecomprimeerde bestanden worden steeds populairder om aanvallen uit te voeren en om kwaadaardige PowerShell (PS) scripts te verbergen. Een voorbeeld hiervan vond plaats in september 2017, toen Barracuda een grootschalige ransomwarecampagne detecteerde en blokkeerde, waarbij binnen 24 uur meer dan 27 miljoen e-mails werden onderschept.
"Organisaties worden zich vaak pas bewust van een cyberaanval nadat de schade is aangericht", zegt Fleming Shi, Senior Vice President of Technology bij Barracuda. "Met Barracuda Security Insight bieden we een gratis adviesplatform aan, om het bewustzijn over cyberveiligheid te vergroten. Dit doen we door proactief de meest actuele dreigingen te identificeren waar iedereen zich bewust van zou moeten zijn."
Hoe het Barracuda Security Insight Platform werkt
Het Barracuda Security Insight Platform gebruikt real-time informatie uit de volgende datastromen:
Email: aanvallen via e-mail, waaronder schadelijke links en bijlagen, malware, ransomware en botnets.
Rand van het netwerk: onder andere exploits van zero-hour kwetsbaarheden, 'brute force'-aanvallen, DDoS, spyware en spam.
Het web: aanvallen via de browser met ransomware, malware of andere exploits van kwetsbaarheden.
Endpoints: onder andere malware, spyware, botnets, ad- en clickfraude, IoT-malware en besmette 'dead apps' (besmette updates voor verouderde toepassingen die door de oorspronkelijke ontwikkelaars niet meer worden geüpdatet).
Het Barracuda Security Insight Platform is beschikbaar via de Barracuda-website, of via https://csi.barracuda.com. Daarnaast is er een open API voor integratie in webportals, dashboards en digitale assistenten van derden, zoals Alexa. Wilt u meer weten? Vraag dan geheel vrijblijvend een adviesgesprek aan.