Beperkte standaard recovery in Office 365
De belangrijkste focus van Microsoft binnen Office 365 is ervoor te zorgen dat de beschikbaarheid van services en gegevens niet wordt verstoord. Hoewel Microsoft het risico van downtime aanzienlijk vermindert, vermindert dit niet het risico van gegevensverlies.
Waarom een Office 365 backup maken?
De Microsoft's opties voor gegevensherstel zijn vrij beperkt,  ze bieden alleen enkele elementaire veiligheidsmaatregelen (zie hieronder). Met Barracuda Essentials voor Office 365 geniet u wel van een uitgebreide bescherming, backup en opslag voor uw Office 365.
Microsoft recovery & retention specs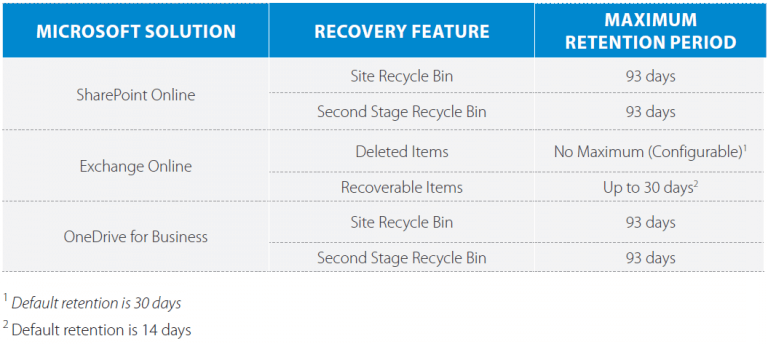 Waarom een Office 365 backup maken?
De Prullenbakken fungeren als een vangnet voor verwijderde inhoud. Hoewel gegevens uit deze Prullenbakken kunnen worden hersteld, is de retentie voor elk beperkt en als de gegevens niet meer worden bewaard, zijn de gegevens voor altijd verdwenen.
Microsoft vertelt hun Office 365-klanten dat zij de eigenaar van hun gegevens zijn en als enige verantwoordelijk zijn voor de bescherming ervan. Dit betekent dus dat de klant zelf een oplossing moet zoeken als zij de gegevens in hun Office 365 omgeving optimaal willen beschermen.
Barracuda Solutions voor Backup en Archiving van Office 365
Waarom een Office 365 backup maken en archiveren? BlackIP biedt
backup & archiving
oplossingen voor Office 365 omgevingen. Neem contact met ons op voor een vrijblijvend adviesgesprek of download direct onze whitepaper en lees hoe andere organisaties hun kritieke gegevens beschermen.
Whitepaper: Backup & Archiving Office 365 voor Organisaties
In 4 stappen een soepele en veilige migratie naar Office 365
Heeft u nog geen Office 365? Maar wilt u wel overstappen of meer doen met uw e-mailbescherming. Lees dan onze whitepaper over de 4 belangrijkste stappen naar een veilige, soepele migratie van Office 365. Of laat u compleet ontzorgen en ontvang een geheel verblijvend adviesgesprek over een veilige email omgeving in mx-relay, outbound/inboud, filters, anti-spam en smtp services.